St Peter's Post #27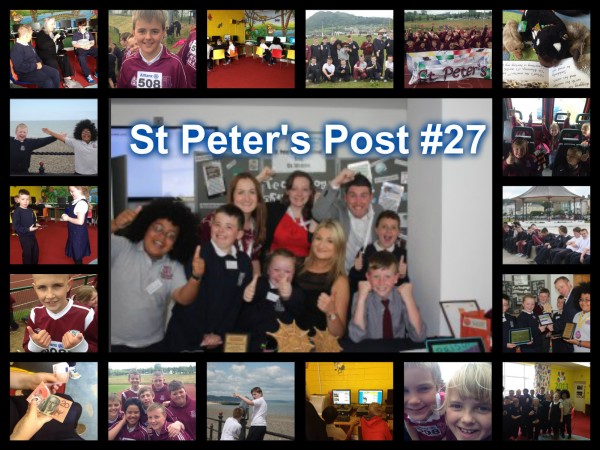 Welcome to our weekly online newsletter, the St Peter's Post! This week was a short one as we were off for Monday and Tuesday, but we packed plenty into our three days. We had a visitor from Tasmania, Wicklow Sports and Bike Week, along with posts about our own Sports Day and our participation in the Excited Festival.
The main headlines from last week were:
In other news this week:
There was a really exciting announcement from Mr Foley, Paddy and Mr Kinsella – they're taking on a very cool challenge as a fundraiser for the school. You might have seen it in the Bray People this week – they're attempting to drive around the 32 counties in 24 hours! There'll be a lot more about this fantastic challenge on the blog over the next few weeks and they really appreciate all the support so far.
Best of luck to all past pupils and older brothers and sisters sitting exams at the moment!
We'd a great day at the Wicklow Sports, organised by Cumann na mBunscol. Well done to all the participants
Having great fun in the parade! #WicklowSports pic.twitter.com/hsg6TKFLpv

— St. Peter's Primary (@StPetersBray) June 4, 2014
 World Cup fever is building in St Peter's – 2nd class have chosen their countries already!
5th class are using SketchUp to plan their STEM projects – we're looking forward to seeing what they get up to!
5th are planning their designs for #Bray seafront using SketchUp #stem pic.twitter.com/iLLq00Uwen

— St. Peter's Primary (@StPetersBray) June 6, 2014
Tommy was in on Friday to coach Gaelic football – we all really look forward to his visits. His good nature and sense of fun makes him a really popular part of St Peter's!
4th class continued their work on their stop-motion films. We can't wait to see the finished films!
Lots of talk in 6th class about graduation this week – we can't believe that it's almost time for them to move on. We're looking forward to the Student-Teacher soccer match!
As always, you can find all of our previous St Peter's Posts here and now, on the website, we've included space for the St Peter's Posts so that visitors to the website can keep up with all of our weekly news. You can access the latest St Peter's Post at the bottom of the front page of the website or you can click on this link to see them all!