St Peter's Post #29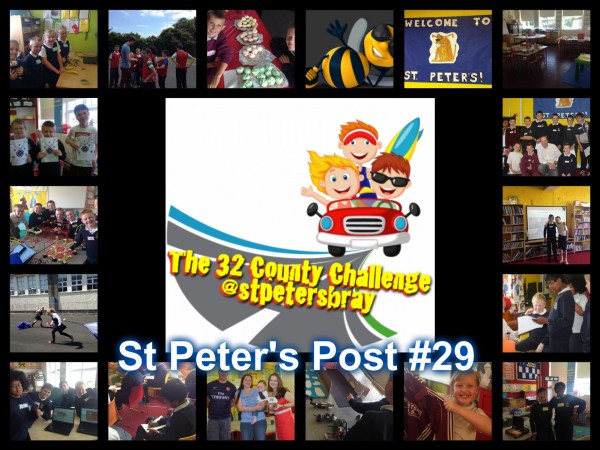 Welcome to our weekly online newsletter, the St Peter's Post! The big news this weekend is the 32 County Challenge that's currently underway – Mr Foley, Paddy and Mr Kinsella are in Laois at the current time of writing (but hopefully will be further along by the time we finish)…
As they've just hit Carlow, we'll press ahead with the headlines from the week:
In other news this week:
On Friday, we held our Peter's World Cup – France, managed by Ms Flanagan and Ms Mitchell, won on penalties. This is Ms Flanagan's second successful year in a row – we hear Martin O'Neill is quaking in his boots! We'll have a post on the tournament on Monday!
We had an Open Day on Thursday for our new students – we were delighted to welcome our incoming Junior Infants at 12.30 and the other classes at 3pm. The school was a hive of activity with the many new students for September, along with 31 current students, who stayed back to welcome and show the new students around! We're so excited for September!
3rd (the new 4th) are showing their K'nex and Lego creations! pic.twitter.com/iGTrR2Oyab

— St. Peter's Primary (@StPetersBray) June 19, 2014
2nd class had their final 'Roots of Empathy' session with Baby T this week.
Sincere thanks to Gwen and T for making our @RootsofEmpathy experience so memorable. Bye bye Baby T! #rootsofempathypic.twitter.com/YuYLVg4EtI — St. Peter's Primary (@StPetersBray) June 18, 2014
4th class finished making their Stop-Motion films this week – we can't wait to see them!
5th class are completely engrossed in their final class novel of the year – they're really enjoying 'A Little Piece of Ground'.
Mr Curran is coming in to judge his handwriting competition this week. We're really looking forward to seeing him!
Don't forget the Homecoming Breakfast for the 32 County Challenge! We've also extended the deadline for sponsorship – so make sure you remember yours tomorrow morning. Thanks to the many students and families who have been so generous! With only the photo collage left to put together, the lads have run into a spot of bother…
They said we couldn't go wrong. They said the sat nav was fool proof! #32in24 pic.twitter.com/hdc3SUXgH2

— St. Peter's Primary (@StPetersBray) June 22, 2014

As always, you can find all of our previous St Peter's Posts here and now, on the website, we've included space for the St Peter's Posts so that visitors to the website can keep up with all of our weekly news. You can access the latest St Peter's Post at the bottom of the front page of the website or you can click on this link to see them all!