Choosing the right school for your child
As your child continues their education from pre-school, you face the very important decision of where to send your child for their primary school years.  St. Peter's Primary School is a friendly, local option that strives for both academic and personal development for all.
Throughout the last number of years the school has been transformed with bright art work, cartoon style murals, new flooring and an interactive library and computer room. The addition of five brand new state of the art classrooms, a special needs classroom, learning support, and resource rooms have all helped to keep our school at the forefront of providing a 21st century education to your child.
We have received numerous academic and sporting awards and below are just a few examples:
ACADEMICS AWARDS
The school has received 6 Excellence in Science awards from Discovery Primary Science
Won the prestigious Young Scientist of the Year award in 2009 and were highly commended in 2010, 2011 and 2012
Represented Ireland in an International Flight Project, which focused on the integration of Art and Science
Won the Senior Engineering Class of Ireland award in 2009, which over 400 schools entered
Featured in national newspapers recently, highlighting the schools approach to innovative teaching methods
Winners of numerous art, writing, and science competitions
Currently involved in a programme for R.T.E. on literacy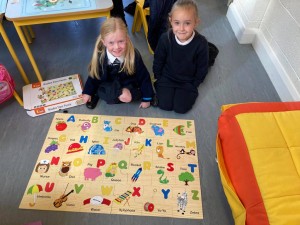 SPORTING AWARDS
 First school in Leinster to be awarded the Active Flag (an award for excellence in physical activity
Wicklow Sports – medal winners in 100m, 200m, relay, 600m, and long jump
Gaelic – unbeaten in three blitzes over the past two years
Gaelic- One boy represented Leinster in Croke Park
Cross-country running – won over 30 medals during the past three years
Soccer – Quarter finals of FAI Wicklow 5-asides, with both past and present pupils representing Wicklow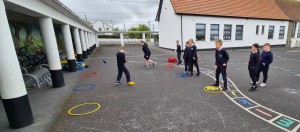 We are an extremely high tech school and each class has an interactive whiteboard. We pride ourselves on keeping up with modern technologies and this is evident throughout our school. We have featured many times on Den TV and have had many famous people come to visit the school for various reasons. Indeed the national and international awards that the school has recently won for our blog (www.stpetersbrayblog.com) are just a small indication of the innovative teaching occurring in St. Peter's on a daily basis.
All of these are great reasons why St. Peter's Primary School is the right school for your child.  Our teacher: pupil ratio is amongst the lowest in Bray and this will ensure that your child gets plenty of individual attention. We are a growing school with big advantages.
People regularly comment on the friendly atmosphere, bright colours, happy children, beautiful artwork and top class equipment when they talk about the school. As famous author Roddy Doyle said during his recent visit to the school, "There is a lovely sense of fun when you come through the doors. The boys are so bright and the colours and atmosphere in a school I have never experienced before."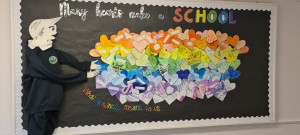 If you have any questions or would like to see the school, please contact the school on 01-2860062 or just drop into the school at any time and I'll give you a guided tour. Thanks for your time and consideration.
Kindest regards,
Scott Vance