St Peter's Post #26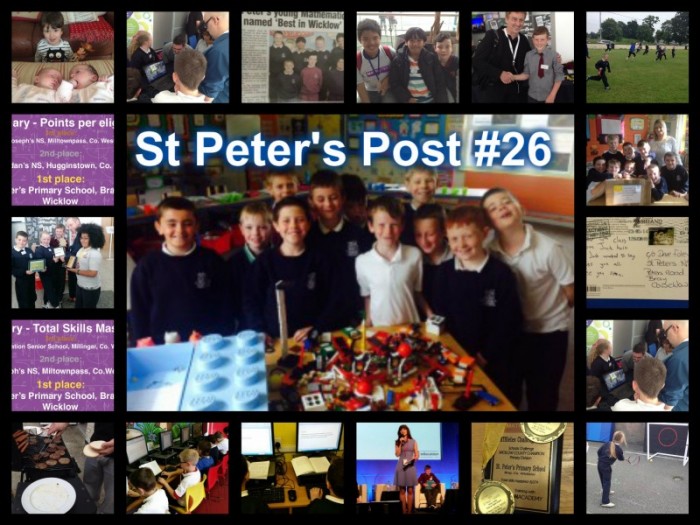 Welcome to the St Peter's Post – our weekly online newsletter! Apologies for the late edition this week – we were in Dublin Castle for the Excited Festival on Saturday, showcasing our work using technology in St Peter's – expect a massive post later this week to celebrate our very special day out!
And so, to the main headlines of last week:
In other news this week:
This week, we were really busy completing our standardised testing. Well done to all our students for their concentration and effort.
We had a photographer in the school on Wednesday to take class and individual photos. It gave our students in 2nd and 6th classes a chance to dress up in their Communion and Confirmation clothes, which was particularly popular with our six girls:
High fashion in the library as we take our school pictures! Great memories! pic.twitter.com/rhYUa7gXo6

— St. Peter's Primary (@StPetersBray) May 28, 2014
Thanks to the ever-supportive Shell for sharing some photos of our Communion ceremony on Twitter:
The Super 2nd Class of @StPetersBray with their Wonderful Teacher Ms B Principal Ms Whyte & Deputy Principal Mr Foley pic.twitter.com/Duu7S8pVXm

— Shell..╰☆╮ (@Shell_White_) May 27, 2014
Much of our Twitter feed on Saturday was full of the amazing day we had at Excited – we really recommend that you check it out, but we will be including it in our blog post during the week.
As you know, we're off today, but we're cramming a lot into the rest of the week. Tomorrow (Wednesday) is the Wicklow Sports competition and we're welcoming a very special visitor, Sue Wyatt from Tasmania, who's coming to talk to us about how we blog!
On Friday, it's Bike Day! We're also welcoming Anne McMorrough, who works with students who are training to become teachers, who wants to talk to us about creative learning using ICT. She spoke to our students at Excited on Saturday and she was really impressed by everything they were telling her.
As always, you can find all of our previous St Peter's Posts here and now, on the website, we've included space for the St Peter's Posts so that visitors to the website can keep up with all of our weekly news. You can access the latest St Peter's Post at the bottom of the front page of the website or you can click on this link to see them all!