St Peter's Post #25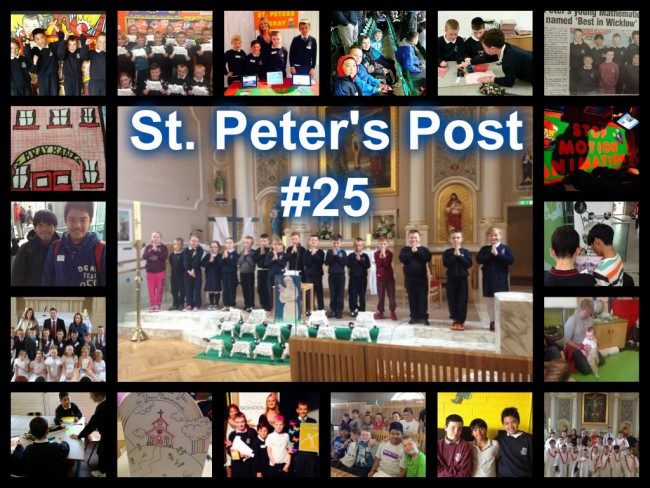 Welcome to the Peter's Post – our weekly online newsletter!
A very busy weekend in St Peter's Bray – we'd Mathletes all day on Saturday (more on that later!) and our fantastic 2nd class made their Communion on Sunday. We also had a hectic four day week, preparing for polling and welcoming Neal from Digital Schools!
The main headlines are:
In other news this week:
Congratulations to 2nd class who made their first Holy Communion today. Thanks Ms Brennan for preparing them so beautifully and to Sr Patricia and Fr James. Well done to our choir, who sang beautifully!
Congratulations to our students and big thanks to Ms B for all her great work preparing a lovely Communion ceremony! pic.twitter.com/BryHZJznaw

— St. Peter's Primary (@StPetersBray) May 25, 2014
Thanks to our choir too- a mix of 3rd-6th classes! Lovely to see them supporting 2nd class! #schoolspirit pic.twitter.com/U2oHLiGTt2 — St. Peter's Primary (@StPetersBray) May 25, 2014
4th class were busy filming stop-motion films with Mr Kinsella this week – we can't wait to see the finished results!
Scripts ready, we are now making the props to go with our lego! #4thclass pic.twitter.com/QwDvR98C5X

— St. Peter's Primary (@StPetersBray) May 21, 2014
Mr Foley and Paddy took four more students to the Bray Wanderers match on Friday – this is a really cool way of interacting with the local community! They tweet throughout the matches with predictions and commentary. Bray Wanderers are great supporters of ours on Twitter so we're delighted to encourage their younger generation of fans!
Half time @BrayWanderers match, 4 new biggest fans for the future! pic.twitter.com/E70TrscgEZ — St. Peter's Primary (@StPetersBray) May 23, 2014
Thanks to our friends in St Brigid's in Greystones, who sent us a card for our First Holy Communion this week.
Guess who it is from?! @2ndClassR6! So kind! Thanks everyone! pic.twitter.com/Ri9lKc3AfY

— St. Peter's Primary (@StPetersBray) May 20, 2014
Baby T was in for Roots of Empathy – he's started to crawl!
Look who is here! @RootsofEmpathy pic.twitter.com/VSmfdFqAFd — St. Peter's Primary (@StPetersBray) May 21, 2014
We've a busy week ahead as we're starting our standardised testing. It's really important that all students are in every day and are in on time! Attendance has been excellent so far this year so keep up the great work. Don't forget that Breakfast Club is open to all students from 8.30 onwards and all are welcome! Sports Day is on this coming Friday and we'll be posting our timetable when it's ready – Paddy has done a great job organising it.
As always, you can find all of our previous St Peter's Posts here and now, on the website, we've included space for the St Peter's Posts so that visitors to the website can keep up with all of our weekly news. You can access the latest St Peter's Post at the bottom of the front page of the website or you can click on this link to see them all!