St Peter's Post #24
Welcome to our online weekly newsletter, the St Peter's Post. This week was hectic in the school – we had Mathletes announcements, our submission for the Discover Primary Science award, Confirmation, Teachmeet East and a religious visitor. Congratulations to all of our students who made their Confirmation today – the weather was beautiful and they all behaved impeccably on the day. It was lovely to see Ms Whyte and everyone was dying to hear how the twins are getting on. Well done to Mr Staunton for all his hard work in preparing the boys for the ceremony!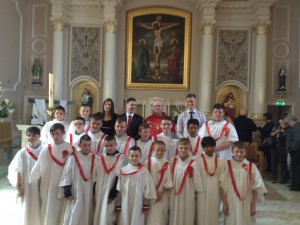 Our main piece of work on the blog this week was our submission for the Award for Science and Maths Excellence. The links to all the other science-related posts can be found within it – call it a Saturday supplement in the St Peter's post! Every class was involved in our submission and it's well worth a look. Check it out here.
Our other main headlines from this week are:
Other news this week included:
We welcomed Donal from the Dublin diocese to discuss our religion lessons on Friday. He commented a number of times on the beautiful manners of the students and how enthusiastic they were.
On Thursday, we held TeachMeet East in St Peter's – a forum where teachers and those with an interest in education could share ideas. TeachMeet East is organised by Kathleen Byrne, principal of St Patrick's NS, Glencullen, and our own Ms Brennan. Among lots of speakers, three of our staff gave presentations. Ms Brennan spoke about our video apps, Ms Byrne spoke about CyberCoach and Ms Sexton spoke about Mathletes in St Peter's. If you'd like to read all about what happened on the night, the hashtag was #tmeast
Ms Byrne telling #tmeast all about cyber coach and how we use it! pic.twitter.com/3qzyfVNdxf

— St. Peter's Primary (@StPetersBray) May 15, 2014
2nd class practised their reading using Soundcloud this week- focusing on fluency and clarity.
We wrote haikus in 5th class. Haikus have five syllables in the first line, seven in the second and five in the third.
Stephen the Community Garda visited this week and answered our questions about being a Garda. He's going to take 5th and 6th classes on a visit to Bray Garda Station in a couple of weeks. Andy got to try on the Garda uniform.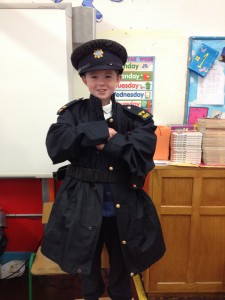 We'd a great Roots of Empathy session with Paddy during the week in the library.<


Special times, enjoying a @RootsofEmpathy book with Paddy. Not a sound in the house. Memories are made of this! pic.twitter.com/1IbK6M0HFJ

— St. Peter's Primary (@StPetersBray) May 14, 2014

We used a Birdsong App to identify the birds in our back yard! It was really cool.
There's great excitement about the Creative Schools awards taking place in the Ark on Monday – Ms Byrne and Ms Flanagan are travelling to the awards with Jordan, Dylan, Szymon and Patryk. Have a great day everyone!
We'll leave you with the beautiful Confirmation art from 6th class:
Our Confirmation art is up in our local church- well done 6th class! pic.twitter.com/LfWiwOzcqA

— St. Peter's Primary (@StPetersBray) May 16, 2014
As always, you can find all of our previous St Peter's Posts here and now, on the website, we've included space for the St Peter's Posts so that visitors to the website can keep up with all of our weekly news. You can access the latest St Peter's Post at the bottom of the front page of the website or you can click on this link to see them all!