St Peter's Post #23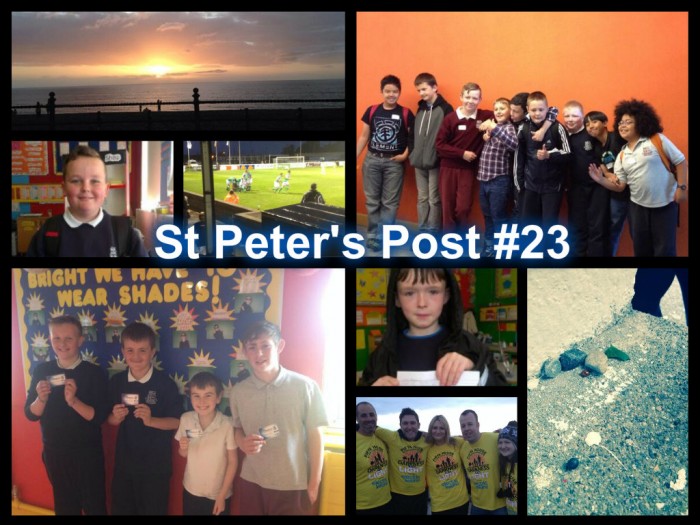 Welcome to another edition of our online weekly newsletter – the St Peter's Post! This week, we've been looking forward to the next few weeks – 2nd and 6th class are preparing for Communion and Confirmation and we've started recruiting for the choir for the Communion ceremony. We were also very busy on Twitter this week!
The main headlines from this week are:
In other news this week:
Mr Foley and Paddy took four of our 6th class to the Bray Wanderers game on Friday night.
Congrats to Adam,Jordan,Jamie,+Dylan who are going to the @BrayWanderers match tonight with Mr Foley and Paddy #loi pic.twitter.com/YaSgdvhGTU

— St. Peter's Primary (@StPetersBray) May 9, 2014
Cyber coach has become really popular this week, with many classes using it in different ways – as they say on one of the videos – if you're moving, you're improving!
We cracked the Twitter treasure hunt for Digital Art Week 14!
Check out the ladybird house that Abi built:
First ladybird house in the yard of 2014 courtesy of Abi! #herecomessummer spot the football! pic.twitter.com/66EKDkX8ho

— St. Peter's Primary (@StPetersBray) May 9, 2014
Some of our staff took part in the Darkness Into Light events very early on Saturday morning – well done to Pieta House for all their amazing work.
Well done to Oisín, who won the Lucan Multi-Counties Boxing Tournament last week. He's also agreed to write about it for the blog next week so we're really looking forward to reading about it then!
5th class started their new novel this week 'A Little Piece of Ground' and their new project using STEM (Science, Technology, Engineering and Maths)
2nd class had another great Roots of Empathy session this week. They were discussing Baby T's visit from last week.
We were delighted to get news that we were successful in our application for the Creative Schools Award! You can see our project here.
And finally, just a quick photo from the Mathletes finals:
Finally in one place- our 2014 team of Peter's @MATHletes_ie! pic.twitter.com/cHxnSsD5BU — St. Peter's Primary (@StPetersBray) May 10, 2014
As always, you can find all of our previous St Peter's Posts here and now, on the website, we've included space for the St Peter's Posts so that visitors to the website can keep up with all of our weekly news. You can access the latest St Peter's Post at the bottom of the front page of the website or you can click on this link to see them all!