St Peter's Post #22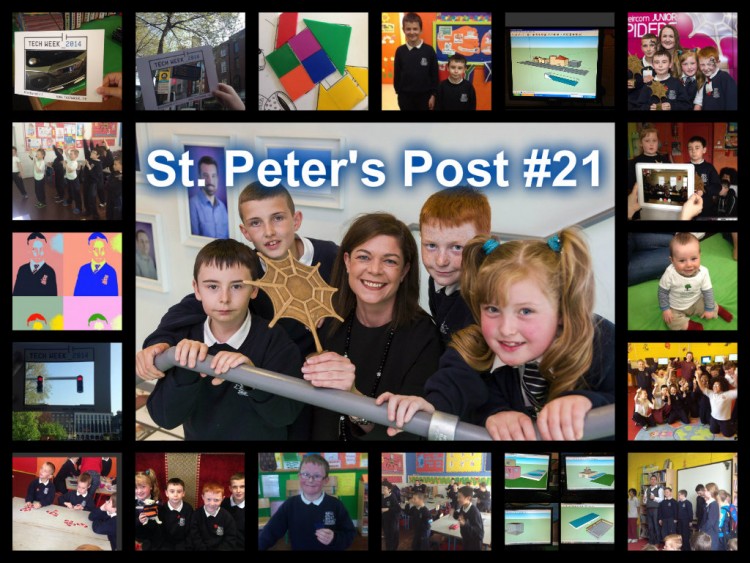 Welcome to our online weekly newsletter – our first St Peter's Post of the third term. It's been a very exciting week in St Peter's and we're sure that everyone by now has heard that good things come in twos! On Tuesday, we were over the moon to be awarded two awards in the Eircom Junior Spiders… and then on Thursday, we were over the moon to hear of two new arrivals to the St Peter's family. Congratulations to Ms Whyte and Mr Vance  on the birth of their beautiful baby daughters!
So let's get stuck in to the headlines of the week:
In other headlines this week:
We were delighted to find out that 18 of our students qualified for the Provincial Finals of Mathletes. We're extremely proud of our students and looking forward to cheering them on in DCU on May 10th.
On the topic of Mathletes, we'd like to congratulate Eduard from 6th class who came in 8th place in the April leaderboards for 6th class!
Check out our Junior Spiders badges sitting proudly to the right of our blog!
2nd and 5th class held a FaceTime chat with Scoil Íde, Corbally about the use of technology in both schools. It went really well and we were fascinated by their use of Lego Mindstorms!
Tommy and Caoilynn are telling @ScoilIde about our @Juniorspiders awards! #techweekirl pic.twitter.com/rjz1ntuEiv

— St. Peter's Primary (@StPetersBray) May 2, 2014
5th class voted every day this week for their favourite pieces of art as part of building an online museum for #artweek14.
Our senior classes enjoyed lunchtime tag rugby with Paddy this week – the weather at the start of the week was perfect for it!
What a day for lunchtime tag rugby! Sixth class are loving the sunshine! pic.twitter.com/406yGrX2lQ — St. Peter's Primary (@StPetersBray) April 29, 2014
We had Maths4fun this week – thanks to the Parents' Council for organising it!
5th class learned about Brown Bag Films and 'Give up yer aul sins' in our comprehension lesson – we cracked up laughing watching the short films! Can you believe they were made in 2001?
We had a really feel-good assembly celebrating the Junior Spiders, the Mathletes Provincial Finals and the new student council reps – well done to our outgoing student council and thanks for all your hard work!
Congratulations to our new Student Council reps! pic.twitter.com/G9C7YoozJR — St. Peter's Primary (@StPetersBray) April 30, 2014
We tried out Cyber Coach this week and were really impressed – another great way to keep us moving. Ms Byrne's 3rd class start off every day with movement and stretching – we're looking forward to following in their footsteps!
We've started dancing with Cyber Coach today in 4th, great fun! #excited pic.twitter.com/Z5bqU7et7w — St. Peter's Primary (@StPetersBray) May 1, 2014
5th and 6th classes are reading 'War Horse' at the moment and 5th class finished it this week. Luckily for them, the next lunchtime was a wet day so they were able to start watching the film. They were very interested in the differences between the book and the film.
Baby T was in for Roots of Empathy – he's getting so big! 2nd class love welcoming him into St Peter's.
Guess who is here! @RootsofEmpathy #rootsofempathy pic.twitter.com/8h3YEcBs1g — St. Peter's Primary (@StPetersBray) May 1, 2014
So there you have it – a hectic week by all accounts.
As always, you can find all of our previous St Peter's Posts here and now, on the website, we've included space for the St Peter's Posts so that visitors to the website can keep up with all of our weekly news. You can access the latest St Peter's Post at the bottom of the front page of the website or you can click on this link to see them all!