St Peter's Post #21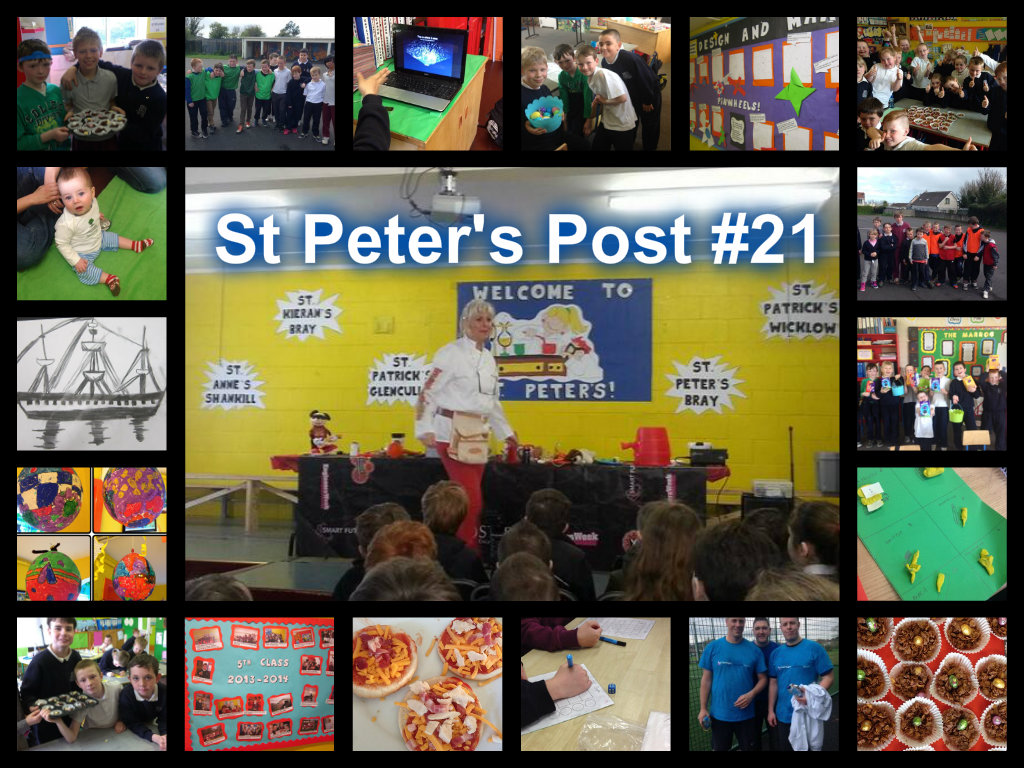 Welcome to our weekly online newsletter – the St Peter's Post! We'd a really exciting week with the arrival of Scientific Sue. We were delighted to welcome five local schools to see Sue in action and they were all really impressed by Sue and by our beautiful school! It was lovely to be able to share our prize with them and we're very grateful to Engineers Ireland for organising it.
Here are the week's headlines:
But, wait, there's more! Here's the rest of this week's news:
Congratulations to Dylan from 3rd class who played at half time in the Carlisle Grounds and scored a penalty! Well done Dylan!
We had a cake sale yesterday – thanks to the Parents Association for organising it!
Thanks to all the parents who attended our information evening this week. It was a really exciting meeting as Ms Whyte and Mr Foley told the room about what makes St Peter's so special and all about the exciting developments in the future. It was lovely to meet all the new faces and it was fantastic to see so many familiar families who can now return to us as we welcome girls from September.

Paddy made pizzas with 2nd class during the week. Thanks Luke from 5th class for helping to organise it.

We had Maths for Fun with the very busy Parents Association – thanks to Anna and Noeleen for coming in and running it with the classes. The students really enjoyed it!
Creative Schools after-school club continued this week. Patryk got to try out Ms Sexton's 'Leap Motion' and had a fantastic time testing it out. 5th class then played around with it on Thursday morning.
Lots of wows and gasps in after school club – we broke out the Leap! Amazing! pic.twitter.com/NP5GP6gbBb

— St. Peter's Primary (@StPetersBray) April 9, 2014
Tommy began filming his Creative Schools project – the evolution of printing:
My project is he evolution of printing. I love stop motion animation! From Tommy L #stopmotion pic.twitter.com/PTIZbkcmxA

— St. Peter's Primary (@StPetersBray) April 9, 2014
We got our Tech Week Ireland packs this week – you'll hear lots more about that after the Easter break!
We're very excited about the Junior Spiders Awards ceremony, taking place in Google HQ after the Easter break. Ms Brennan will be attending with Oisín, Tommy, James and Caoilynn.
In late news, our friends at Seomra Ranga have given us a book to review. It's called 'Fintan's Fifteen' and, by coincidence, the author, Alan Nolan, is from Bray! If you'd like to take part in the review, let us know!
Speaking of books and reading, we've been talking this week about how lucky we are to have a Twitter friend like @mariamernagh and her sidekick @SummerBuzz. Not only do they promote the school for us, they're great at interacting with the students – recommending books and praising their reading. Maria is an amazing support for schools and provided us with a lot of advice this week on books and authors. If you're on Twitter, we really recommend that you follow both of them! Thanks Maria and Buzz!
School is now closed for the Easter holidays. There'll be a few posts scheduled over the fortnight so keep an eye out! We're looking forward to seeing you all at 8.50 a.m. on the 28th April.
So, there's a snapshot of the week in St Peter's! As always, you can find all of our previous St Peter's Posts here and now, with the new website, we've included space for the St Peter's Posts so that visitors to the website can keep up with all of our weekly news. You can access the latest St Peter's Post at the bottom of the front page of the website or you can click on this link to see them all!