St Peter's Post #19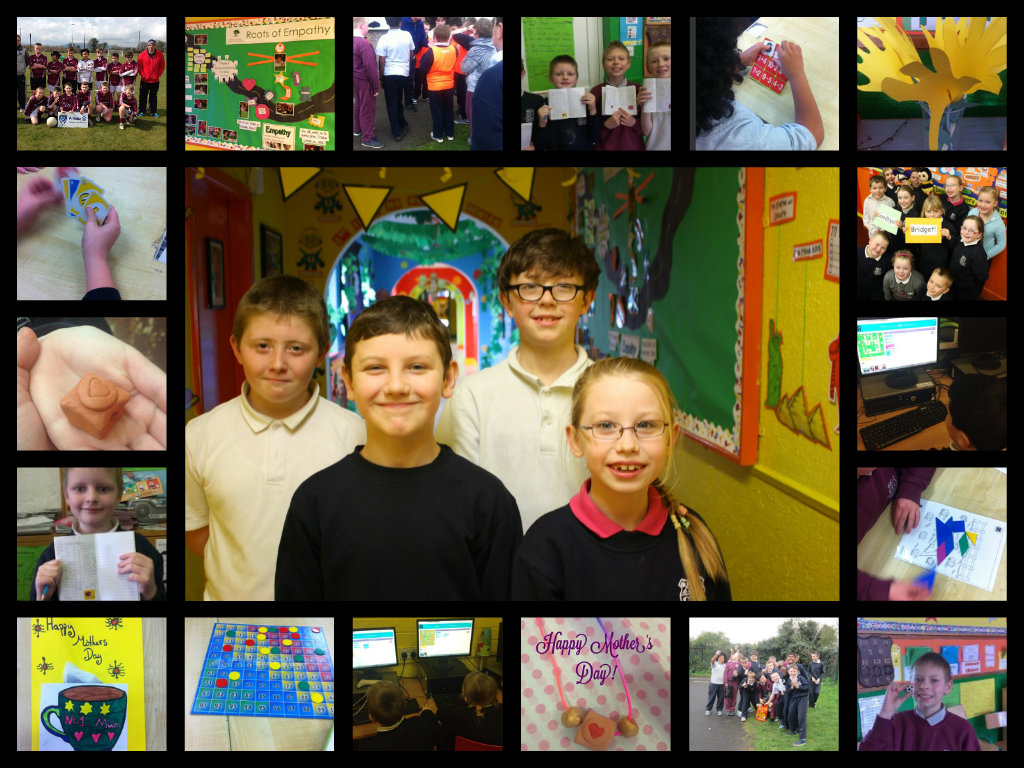 Welcome to our weekly online newsletter – the St Peter's Post! We're very proud of all the great work from our students this week – from Write-A-Book, to stop-motion, to Gaelic tournaments  – and plenty more in between! The headlines from the week are:
In other news this week:
We had a video call with Scoil Íde from Corbally this week. We told them about the MakeyMakey and they told us about the NanoWow project. We really enjoyed the call and we hope to work with them again in the future!
We've started FaceTime with @StPetersBray to discuss #stem . Oisin is explaining #MakeyMakey pic.twitter.com/Ap795II662 — Scoil Ide Corbally (@ScoilIde) March 27, 2014
 'Do this in Memory' was a great success last week – there's only one more before the Communion ceremony. We're very proud of 2nd class and their participation.
We registered for Digital Art Week! We can't wait for it to start on the 28th April.
5th class tested their Pinwheels from their STEM Design and Make this week. Blog post to follow on Monday!
We tweeted our responses during our music lesson to'The
We answered word problems set by sixth class in St Patrick's NS in Celbridge.
@MissWardsClass Bob had 3960 sweets. Rob had 360 sweets. We think! — St. Peter's Primary (@StPetersBray) March 26, 2014
2nd class made beautiful bracelets and necklaces with clay for Mother's Day.
2nd Class are proud of their Mother's Day necklaces. We used clay and our paper stampers for the heart. #edchatie pic.twitter.com/tUeVopKesB — St. Peter's Primary (@StPetersBray) March 28, 2014
We were delighted to get a lovely response from one of our parents:
@StPetersBray ..I was absolutely delighted with my new jewellery for Mother's Day, perfect idea guys.. X — Shell White (@Shell8031) March 28, 2014
Among the other art for Mother's Day is this beautiful card from Luke in 6th class!
Luke from 6th made the most beautiful Mother's Day card! pic.twitter.com/9UyJC37nM8 — St. Peter's Primary (@StPetersBray) March 28, 2014
   We'd great fun in our Creative Schools after-school club. Andrei, Tommy, Patryk and Adam were in flying form as they worked on their stop-motion animations!
We've been getting set up for the Engineering Showcase on the 8th of April. We can't wait to welcome Scientific Sue to St Peter's!
So, there's a snapshot of the week in St Peter's! As always, you can find all of our previous St Peter's Posts here and now, with the new website, we've included space for the St Peter's Posts so that visitors to the website can keep up with all of our weekly news. You can access the latest St Peter's Post at the bottom of the front page of the website or you can click on this link to see them all!