St Peter's Post #17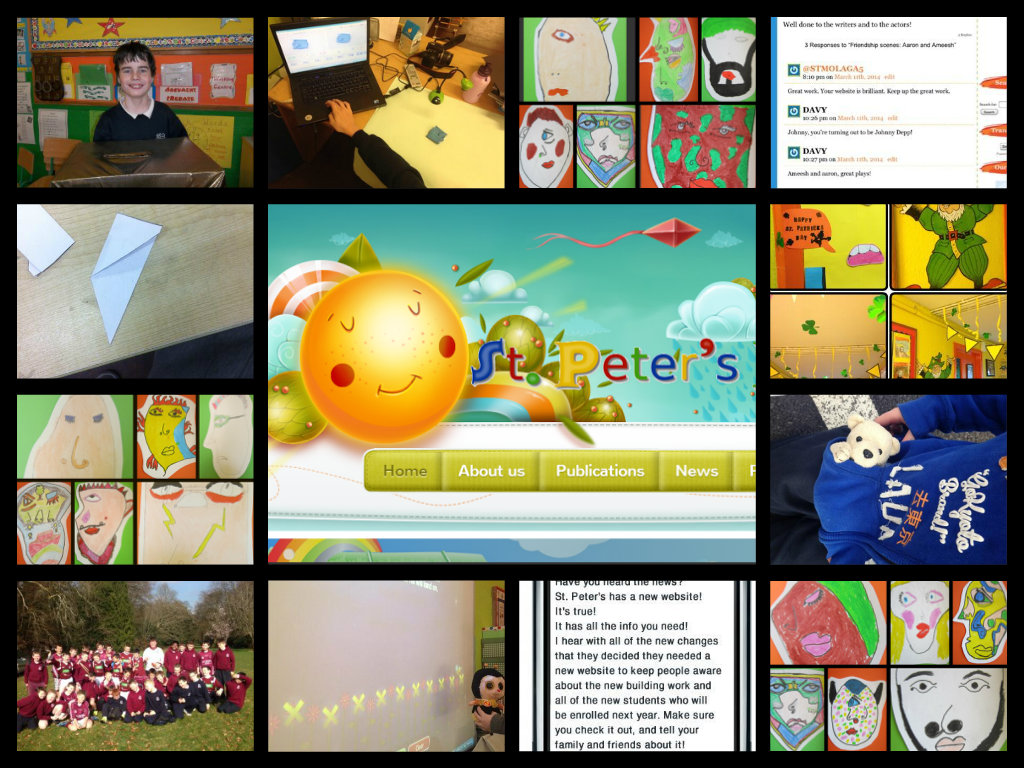 Welcome to our weekly blog newsletter – the St Peter's Post! And if it's ever been needed – this has been the week! With so much happening, we don't want you to miss out on any of our big news and little moments. Of course, as you all know by now, the major event this week was the launch of the website – www.stpetersbray.ie All the staff and students worked really hard to put it together, but special thanks has to go to Ms Brennan, who put in so much work to turn all the content into the fantastic website we now have! Read all about our launch here.
Please make sure you check it out! The school spirit in St Peter's is unrivalled and something that many people have commented on. The comments on this blog alone really show how much the students of St Peter's and their parents love the school. We really appreciate your support and help in getting the word out there about all of the exciting developments!
As you know, we're closed on Monday and Tuesday for St Patrick's Day. We were happy to share the details for the St Patrick's Day festival in Bray on the blog during the week and we really recommend you check it out.
So what else has been going on this week?
In other news this week:
We got a lovely reply from bray.ie on Twitter about our blog post on the St Patrick's Day Festival.
Great show of community spirit! Working together to promote #Bray and it's events! Well done @StPetersBray #postivebray #irelandinspires

— bray.ie (@bray_ie) March 14, 2014
We were delighted to get such a lovely reaction to our Engineer's Week prize on Twitter so Robert from 5th class made this Vine to say thank you!
 2nd class have added over 500 words to their vocabulary this year – well done guys!
We used Clic News to research the conflict in the Ukraine.
We sent out a call to other schools to see if they'd like to be included in our blogroll to the right of the page. We're delighted to have such close friends on Twitter in other schools.
We continued our work towards the Creative Schools award. Patryk from 6th was the first to record his stop motion animation in our after-school club this week, but there are a number of other groups almost ready!
We were delighted to reach 1800 plays on Soundcloud this week! You can check out our podcasts here.
We were so excited to see our dancing teacher Sue on RTE's programme 'Jigs & Wigs' this week. You can catch up with it on the RTE Player here if you missed it.
We set up our Design and Make project on Friday for 5th class. Check back next week for all the details!
We had assembly on Friday – we demonstrated our new school website, we announced our Engineer's Week prize and the Student Council gave an excellent report on all their work. Well done everyone!
We were delighted to welcome Ms Hughes to the school during the week. Ms Hughes is working with 6th class at the moment.
We were delighted to improve our standings in the Mathletes leaderboards. We are now third in the Total Mastery Points leaderboard and the Mastery Points per student board. We'll post next week to update you about our progress with Mathletes and Khan Academy.
So that was this week! As we mentioned early in the post, we're off on Monday and Tuesday, but we'll see you all back bright and early at 8.50 on Wednesday morning. Enjoy your weekend. Lá Fhéile Pádraig!
As always, you can find all of our previous St Peter's Posts here and now, with the new website, we've included space for the St Peter's Posts here so that visitors to the website can keep up with all of our weekly news. You can access the latest St Peter's Post at the bottom of the front page of the website or you can click on this link to see them all!