St Peter's Post #7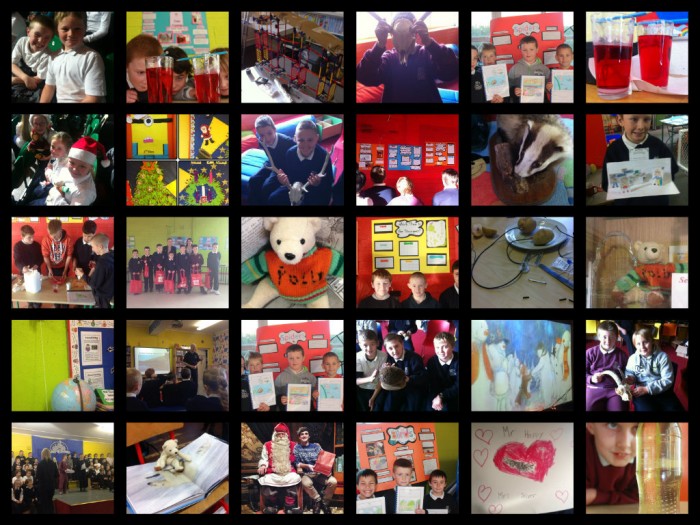 Big news this week on the blog! Our first post of this week and our most recent deal with the same exciting story… And that's before we discuss the Mini-Scientist Showcase and Hallelujah Choir Concert! We'd better get started…
The headlines from this week are:
In other news this week:
Ms Kane finished her Teaching Practice in 5th class this week. Ms Sexton and the boys will really miss her interesting lessons! Thanks, Ms Kane!
Abbi and her sister, Molly, made a jumper for Polly this week. You can see it here. Well done girls!
Rehearsals for Cinderella are in full swing – everything is going well and we're looking forward to everyone seeing it on the Thursday 19th December!
2nd class have started putting up their Christmas decorations and Ms Hyland's class have a beautiful display on their door.
Ms Byrne's 3rd class have been working really hard lately to improve attendance and homework with a very cool classroom display – well done everyone!
2nd class interacted with a class in Marino College and with Anne McMorrough (@annemmcm) on Twitter during the week. 5th class also told the class about their Mini-Scientist projects.
Ms Hyland's class made fantastic pop-up Christmas pictures – you can see Ryan's one here.
The lovely Donal Skehan sent us a very cool photo this week – apparently he asked Santa to put us all on the nice list: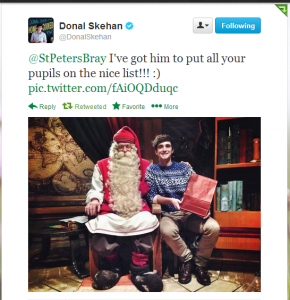 As always, you can catch up with all previous editions of the St Peter's Post here!