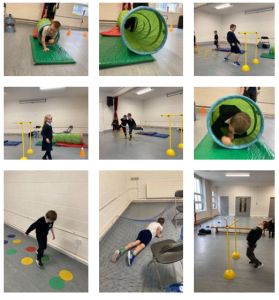 Sports in St. Peter's

Here is a selection of some of our sporting activities in St. Peter's
 First school in Leinster to be awarded the Active Flag (an award for excellence in physical activity)
Gaelic Football: We have strong links with Bray Emmets and are fortunate that some of their coaches work with all of the classes
Cross Country Running: 2nd- 6th classes participate in cross country running. We participate in two cross country days in Avondale Forest, where the students complete a distance over tough ground. We had a winning Gold Medal team in 2018.
Sports Hall Athletics: We run an athletics programme with the Bray Sports Promotion Unit. After a number of weeks training, the children are brought to a Wicklow Athletics Sports event, where they compete in new events, such as the triple jump, javelin and vertical hop.
Sports Promotion Unit Tournaments: Many students take part in a Multi-Sport after-school club, where they play a sport for 8 weeks. At the end of the eight weeks, they compete against other schools in Bray, who have received the same coaching. The students experience Tag Rugby, Handball, Hurling, Rounders and Athletics.
Soccer: Our students take part in after school football clubs, where they can play in mini-leagues
Friday Fit Club: Every Friday, pupils take part in Friday Fit Club, which teachers them about speed, agility, quickness, co-ordination and how to fall safely using mats.